Eczema is a common skin condition that affects more than 31 million Americans. Eczema is usually caused by an environmental trigger and may present with symptoms such as:
Dry, itchy and flaky skin
Rash
Bumps on the skin
Leathery patches of skin
Swelling
Eczema symptoms can appear anywhere on your skin, including but not limited to your:
Hands and elbows
Ankles and knees
Face, lips, neck and around the ears
While eczema does not usually cause pain unless the skin is broken from scratching, it can be extremely itchy and negatively impact your sleep; between 33% and 87.1% of adults with eczema report trouble sleeping due to the condition. Knowing how to manage your eczema at night is an excellent first step towards better sleep.
Let's examine a couple of methods for promoting better sleep with eczema.
Use a Moisturizer Before Bed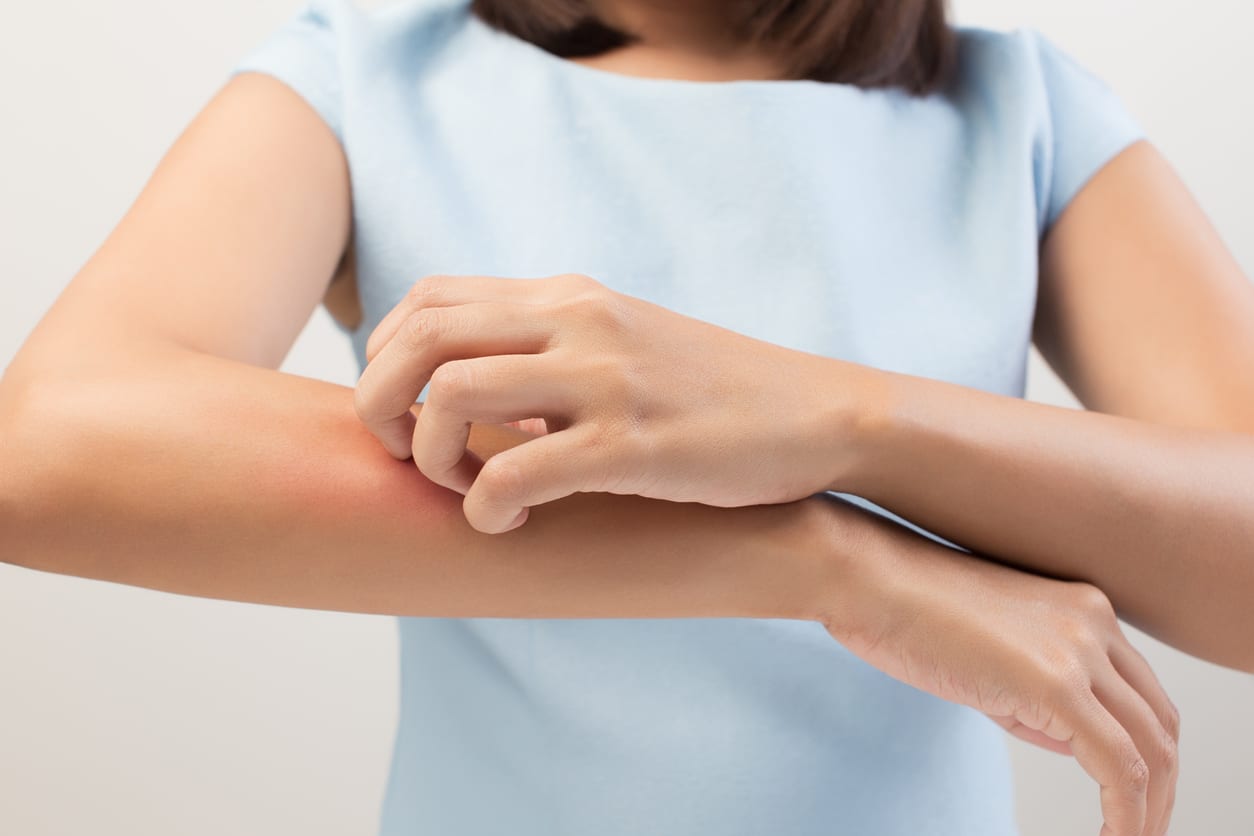 A thick, unscented moisturizer or ointment applied to your eczema flare-up before bed can help prevent dry areas from becoming itchy and waking you in the night. Apply a good moisturizer 30 minutes to an hour before bed to allow the lotion time to absorb.
Applying lotion to the dry areas of your skin throughout the day, especially right out of the bath or shower, can also help control your flare-ups leading up to your bedtime.
Avoid Scratching
Anybody who has suffered from mosquito bites, chickenpox, poison ivy or eczema knows that not scratching an itch is harder than it sounds. It can be especially hard not to scratch your dry spots during the night when you wake up to an itchy spot. To help prevent scratching, keep your fingernails short during a flare-up and consider wearing long sleeves or gloves to cover the dry spot.
Choose Eczema-Friendly Fabrics
Fabrics like wool and nylon tend to be rougher and can exacerbate eczema. To minimize the chance that your clothing or bedsheets will cause or worsen a flare-up, choose cotton, linen, silk or bamboo materials.
Practice Good Sleep Habits
Caring for your eczema works best when combined with a good nighttime routine. For the best sleep possible, turn off your screens, stick to a scheduled bedtime and swap your late-day caffeinated beverages for an herbal tea from the Grow Newberry Main Street Farmers Market.
For more information regarding your eczema management, contact Carolina Pines ENT today to make an appointment with one of our specialists.